Audio tracks from Various websites - 17 tracks
The following 17 audio track can be found by clicking on the links below:-

Click on the dance name, and the link will take you to the named artist audio track. Click on the dance name, wait till it loads which can take up to 30 seconds on occasions, and then listen to the music for the ballroom or latin american dance track.

For some tracks you will need to right click on the track number, and Save as Target to your music folder. Then you will need to open your folder, and then press play to hear music. This is because some sites are very popular and will not play direct because of too much trafic. I will indicate when this is the case.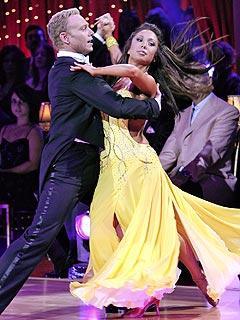 Dancer Cheryl Burke and celebrity Ian from 2007 America Dance with the Stars TV show
Cha Cha Cha - Ain't it funny by Jennifer Lopez (Right click on number and Saves as Target to your music folder)
Cha Cha - Ciega, Sordumuda by Etiqueta Negra (Right click on hi-fi and press open)
Cha Cha Cha - Dance with me by Debelah Morgan (Arrow down to number, right click on track and save as Target to your music folder, and press open to play)
Foxtrot - Fly me to the moon by Scooter Lee (Right click on Save as Target to your music folder and then press play)
Foxtrot - Too much of a good thing is a good thing by Alan Jackson (Right click on Save as Target to your music folder and then press play)
Jive - Long Tall Sally by Little Richard (Arrow down to number, right click on track and save as Target to your music folder, and press open to play)
Paso Doble - Scot and Frans Paso Doble by David Hirschfelder and The Boto Fogo Orchestra (Right click on Save as Target to your music folder and then press play)
Paso Doble - Torero by Chayanne (Right click on Save as Target to your music folder and then press play)
Quickstep - Just To See You Smile by Tim McGraw (Arrow down to number, right click on track and save as Target to your music folder, and press open to play)
Rumba - Islands in the stream by Kenny Rogers and Dolly Parton (Arrow down to number, right click on track and save as Target to your music folder, and press open to play)
Rumba - Perhaps, perhaps, perhaps by Doris Day (Arrow down to track)
Samba - Bailamos by Enrique Iglesias(Arrow down to number, right click on track and save as Target to your music folder, and press open to play)
Samba - I don't feel like dancing by Scissor Sisters (Right click on Save as Target to your music folder and then press play)
Tango - Objection tango by Shakira (You will need to press the play symbol for the number)
Viennese Waltz - Whats new pussycat by Tom Jones (Right click on Save as Target to your music folder and then press play)
Waltz - Could I have this dance by Anne Murray (You will need to arrow down to number and save as a target to your music folder)
Waltz - Husbands and wives by Brooks and Dunn (You will need to arrow down to number and save as a target to your music folder)